Best ways to protect your rental property in Newburgh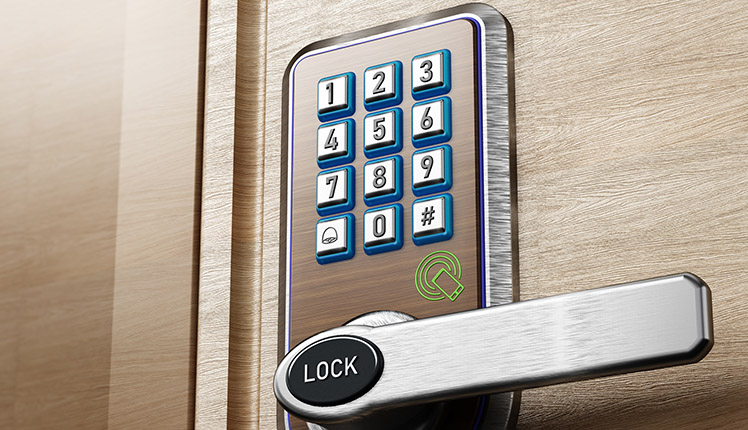 Whether you lease out a single investment property or you run numerous Airbnbs, it's often difficult to protect your rental properties in Newburgh. With a constant turnover of renters, it's not hard to lose a key when someone leaves or find yourself missing an expensive item. In addition, what would you do in the event of an emergency like a fire at your Airbnb while it's being leased?
From smart locks to comprehensive security with home automation, here are some top recommendations on how to protect your Airbnb in Newburgh.
Say goodbye to traditional keys by switching to smart locks
When a visitor checks out, they might return all keys for the next guest. Although, if someone grabbed or made a copy of a key, they could re-enter sometime in the future. Of course, you have the option to replace your locks if a key goes missing, but that is not a timely or cost-effective solution.
Thankfully, you can put in smart door locks that work along with your home security system to alleviate these worries. Then, you can issue each visitor their personalized access code. When your occupants leave, there's no need to worry with the key exchange. Instead, simply program the door code to expire when they vacate the property. If past lodgers return and make an attempt to enter with their old code on the number pad, you will receive an update of a failed entry on your mobile device.
Smart home technology makes vacant units look occupied
It's nice to think that your Newburgh rental property will have a steady flow of renters, but that won't always be true. Despite this fact, you should strive to make it appear that guests are there so your rental isn't targeted by burglars. Implementing a security system that includes home automation affords you the opportunity to use smart light bulbs, motion detection equipment, and video cameras that make your lodging look lived-in.
Start by programming your smart lighting to turn on at specified times of the evening. You will also want your cell phone app to notify you if your video cameras detect someone prowling around your perimeter or walking toward the front door. You can take advantage of the talk functionality to make them aware that you can see them or set your lighting to instantly turn on when a camera or motion sensor uncovers suspicious activity.
Protect your Newburgh Airbnb with around-the-clock monitoring
Your tenants will be more relaxed if they are safeguarded from intruders, specifically when Newburgh is not familiar to them. In the event a prowler tries to gain entry, your home alarm system will not only sound a siren but will also ping your 24-hour monitoring team. Now, no matter where you are, help will be forthcoming. Your monitoring agents can even act as your primary contact and patch you in as soon as you're available.
Along with break-ins, your monitoring hub can be connected with fire alarms, flood detectors, and carbon monoxide sensors. It is likely to be upsetting for your guest if a pipe bursts or a fire erupts. You not only will receive a phone notification that an emergency has taken place, but the monitoring agent will also authorize help from emergency personnel while you're in transit.
Order your new home security system in Newburgh
Protect your Newburgh Airbnb with the latest in home protection. Thankfully, Vivint has popular choices like smart light bulbs, smart entry locks, and around-the-clock monitoring. Reach out today and our experienced team will help you customize a package that makes sense for your rental. Dial (845) 640-5419 or fill out the form to begin!
Cities Served Around Newburgh By Smart Security Specialists Your Local Vivint Authorized Dealer